Snacks to Bring on a Picnic
A laid-back, no-fuss picnic is a great way to enjoy the outdoors without engaging in any intense physical activity. You can either post up in your backyard or go on a hiking adventure to the top of your favorite hill and revel in the view. To prep for the event, you'll need a few key items, including a big, soft blanket, sunscreen to protect your skin from the outdoor elements, and, of course, tasty food. There are certain snacks and drinks, like chocolate, milk and anything else that spoils or melts quickly, to leave behind on your adventure. On the other hand, there are many foods that are perfect to bring outdoors. Here are some of the best ones.
Hard Fruit
Skip the bananas and peaches, which can easily bruise, and instead pack your basket with apples and oranges. They'll provide you and your company with a refreshing, healthy food to snack on while you bask in the sun. Bring along some peanut butter to spread on your apples for an extra kick of protein to fill you up and keep your energy levels high.
Fancy PB&J
​A classic peanut butter and jelly sandwich is the perfect picnic snack, but don't feel you need to stay within the confines of bread, peanut butter and grape jelly. Try adding some fruit, honey or fluff to the mix, and experiment with different kinds of bread and crackers. Another great alternative is to spread peanut butter over a whole wheat wrap and arrange fresh raspberries and blueberries on top of it. Drizzle strawberry jelly over the fruit and roll it up, as you would a wrap. Cut in half and bring it along with you on your picnic!
Veggie Salad
There's nothing like fresh, crisp veggies to munch on while you're enjoying the great weather outside. Spend time before your adventure slicing up some of the freshest vegetable in season, including broccoli, green beans, snow peas and asparagus. Bring along a container of vinaigrette to dip them in without worrying about any ingredients that might spoil.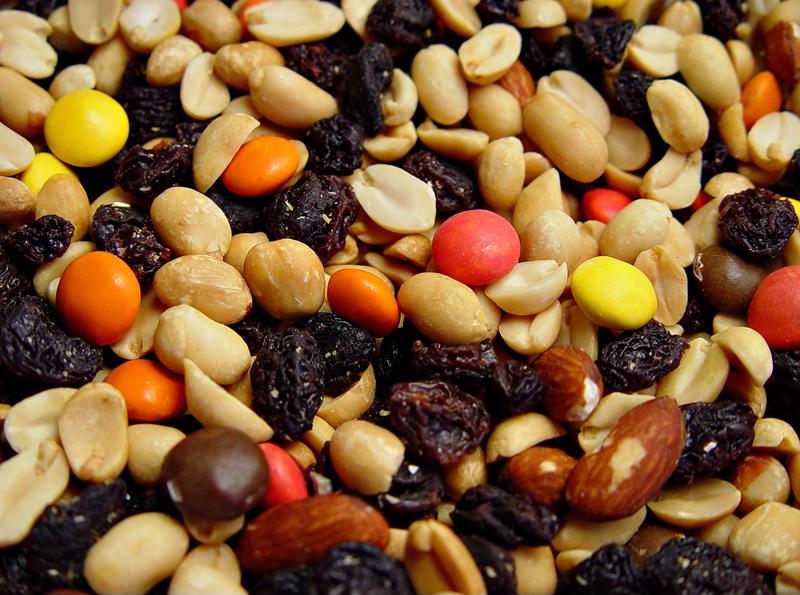 Special Trail Mix
Trail mix was invented with hikers and outdoor enthusiasts in mind. After all, it is called "trail" mix. Make your own by combining your favorite fresh granola and cereal and adding in key ingredients. Try to incorporate some sort of dried fruit, like bananas and raisins, as well as savory nuts that will supply you with some protein. Almonds and walnuts are great options for a sweet and salty mix that everyone will love. You'll also want to include something sweet, like chocolate or sugary candy, to keep things interesting. Try drizzling honey on top for a healthier alternative.
Potato Salad
A big dish of potato salad is best enjoyed outside when the weather is nice. If you're bringing it with you on a picnic, you'll want to make sure you bring one that doesn't include mayonnaise, as it can quickly spoil in warm temperatures. Try this recipe to bring along with you on your picnic, and store it in your Crock-Pot® Lunch Crock® Food Warmer for easy transportation.
You'll need:
10 medium Russet potatoes, peeled and cubed
1/2 cup Italian dressing
1/4 cup red wine vinegar
2 cups sliced celery
1 medium sweet onion, chopped
1/4 cup chopped fresh dill
Directions
Place potatoes in slow cooker and pour the Italian dressing and red wine vinegar over them. Add in the celery, onion and dill. Pour in some water over the potatoes to make sure they cook through. Cover with the lid and cook on low for 6-8 hours. Allow the mixture to cool down to room temperature before storing in the fridge.
Due to the slow ramp up, and even heating of a slow cooker, recipes featured on this site can be cooked in a range of slow cooker sizes. Recipes can be increased or decreased by one quart size per the cooking instructions. For smaller sauces and dips that calls for 3 quarts or less, it is not recommended to alter the unit size. Crock-Pot® is a registered trademark and should not be used generically when referring to a 'slow cooker' within the recipes.
Sunbeam Products, Inc. d/b/a Jarden Consumer Solutions has not tested these recipes and is not responsible for the outcome of any recipe. You may not achieve the results desired due to variations in ingredients, cooking temperatures, cooking times, typos, errors, omissions, or individual cooking abilities. Please always use your best judgment when cooking with raw ingredients such as eggs, chicken or fish.